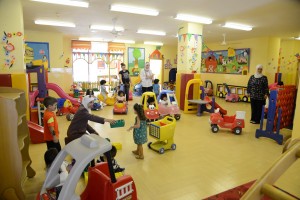 About Us
Lubna's Preschool is located in Abdoun down the street from the British Embassy. We provide a safe and loving environment in which your children are able to thrive and learn. Our staff and teachers are trained to world renowned standards, in order to enrich your child's learning and social skills.
Our educational goal is to help children blossom intellectually while having a lot of purposeful fun along the way. Our unique early childhood education programs enhance each child's development level.
We are proud that our classroom equipment and educational supplies are all tested for safety and age appropriateness because your children's safety is our main concern, and we treat them as if they were our own.
At Lubna's Preschool, we are proud of offering a diverse curriculum where we believe in consistency, and remain intact with the guidelines of the National Association for the Education of Young Children (NAYEC) which focuses on physical fitness, motor skills, cognitive thinking, communication skills, as well as social/emotional skills.
What makes us Different
We aim to create a stimulating, enjoyable, caring, and safe environment that will allow your child to learn and develop, by fulfilling their potential and preparing them for primary school.
Our 630M location features the below:
Drop Off Area for the safety of your children
Clinic with certified on-site Nurse
Splash Pool
Play lands designed for toddlers
Beautiful slides and rides
Shaded sand areas
Traffic land with bicycles
Cafeteria
Library
Gym
Huge Indoor Playing Area
Puppet and Role Playing Theatre